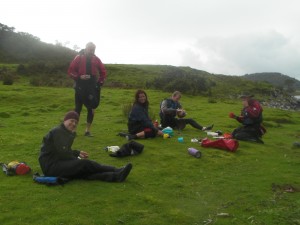 It was the middle of September when I went I went up to Scotland for a few days sea kayaking with Tower Hamlets Canoe Club. Â When Nick invited me earlier in the year the intention was that there would be three groups of paddlers, he and I would be leading one together and he'd booked Tony Hancock to arrange guides for the other two. Â A couple of months later and he'd dislocated his shoulder paddling on the Thames and on arriving in Scotland to gale force winds, it seemed a challenge lay ahead.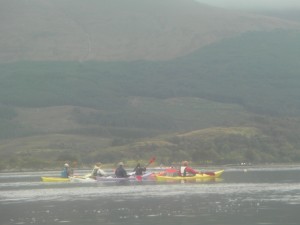 The first morning, we met Tony and I wasn't really expecting to go kayaking. Â The forecast was for West or South West gale force 8 winds and gusting more; I'd looked at the maps and been unable to spot anywhere on the coast that would be sheltered. Â Tony admitted that he "was scraping the barrel" and we headed to Loch Nell. Â It was a small Loch and even though fairly sheltered we were still hit by the gusts at regular intervals. Â It gave us a great chance to get to know each other and have a look at some sea kayaking skills. Â When one of the early questions from the group is "do we need our skegs down now?" you quickly realise their level and I coached them on how to know when they need them, before going on to other skills.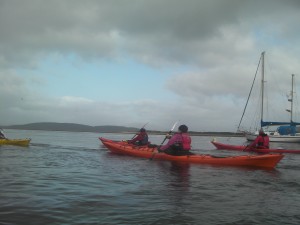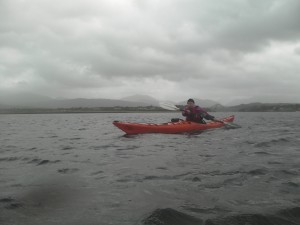 Day two and the wind had eased to Force seven. Â We launched almost straight across the road from Tony's place. Â The group were a little nervous as this is famously known as the "Falls of Lora". Â They could see the tide ripping out of Loch Etive, so a few words of assurance that we weren't going anywhere near them was needed.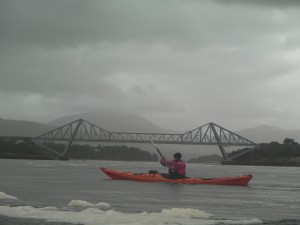 We paddled against the eddy on the lef hand side until we were sufficiently away from the worst of the flow and then used the current to play with some transits.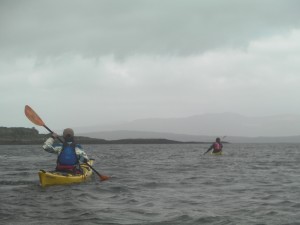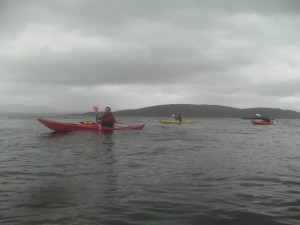 Before crossing Dunstaffnage Bay and heading to Eilean Mor.
Where we found a the slowing ebbtide being squeezed between Eilean Mor and Eilean Beag; providing ideal opportunity to introduce the group, first to ferrygliding and then to surfing.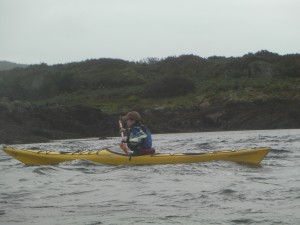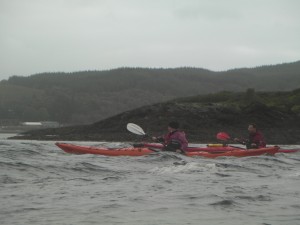 The group enjoyed playing in the waves so after lunch it made sense to continue further around the corner and into lumpier conditions. Â A small bay provided the perfect area to come back to each time to rest in calm seas.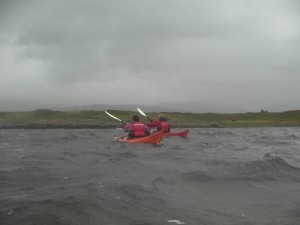 The group explored different ways to turn upwind and downwind as well paddling across wind and waves. Â Having learned lots it was time to head out and ride the swell back towards loch Etive.