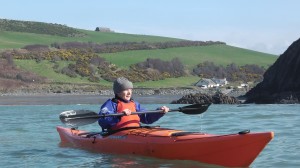 This weekend was our first beginner sea kayaking course of 2013 as we welcomed Bill and Paula from Somerset and David came across from Essex. The forecast for Saturday was F5-7 Easterly winds and a Moderate sea. Sunday the wind was due to back NE and possibly touch Gale Force 8.  A quick chat over a coffee in the cafe to discover what the group were hoping to get out of the weekend and Pwll Gwaelod was chosen as the best place to launch from to begin achieving those goals.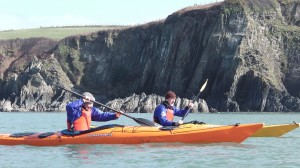 From early on Paula, being the smallest in the group, developed a nice reach for the "catch" part of her forward stroke.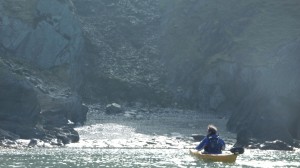 David had paddled sit on top kayaks before and found a little time to explore the isolated beaches as we passed them. Â These little havens sheltered us nicely from the offshore wind and gentle swell that was refracting around the Pen Caer peninsular into Fishguard Bay.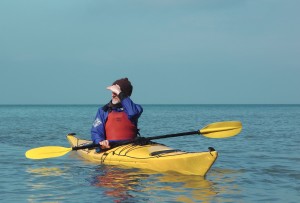 Something had caught Bill's eye as he looked into the sunshine. Â As we travelled south west towards Fishguard I drip fed some steering techniques into their paddling.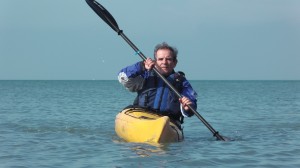 The group explored how changing the edge of the sea kayak can be used to steer. After some food the group tried each others kayaks and mine too. Â Paula found that she preferred the Cappella and so David kindly let her keep it.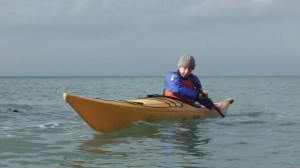 The stern rudder was then played with; some of the group moving onto exploring how changing the feather angle can be used to steer.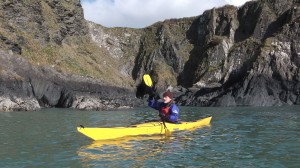 The emerald waters of Pembrokeshire didn't disappoint as we explored some of the hidden routes between the rocky channels.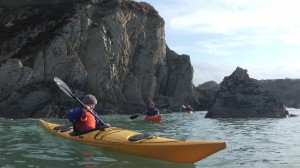 Slowly making our way back towards Pwll Gwaelod beach.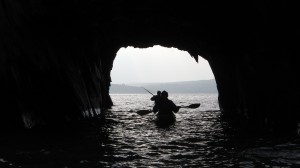 By now the tide was high enough for us to paddle through the tunnel, the end of a nice first day sea kayaking for our beginners.
On Sunday, the weather forecast we'd been hoping would be late wasn't. The temperature had dropped and the wind picked up and had gone NE. With a 2.2m swell forecast it was going to be tough to find somewhere for our beginners to paddle; other than in the Cleddau Estaury which isn't really sea kayaking. Â The morning was spent drinking coffee, learning how tides work and where to get and interpret weather forecasts.
On the quay in Lower Fishguard we had a discussion about what we could see. Â Although sheltered from the wind there was close to 1m breaking waves coming into the harbour and it was decided that, although not ideal as a learning environment, they wanted to have a go at paddling out through them. Â Having achieved this the group were happy to return to the quay and the cafe for more coffee and a debrief! Â We look forward to seeing them all again to consolidate the skills they discovered on Saturday.
There are more photos on our facebook page of this beginners sea kayaking course.