by Steve Bunston, almost a year with us!
My journey to becoming a sea kayaker didn't really start with a kiss, but I figured that would get your attention!  I've always been into the outdoor scene and in hindsight I guess sea kayaking was a really a question of when not if. Five years ago I found myself on the Island of Skye at the foot of the Dubh Ridge – probably the best rock scramble in the UK. As I climbed I saw 4 sea kayaks beached below me – they had been paddled up the Loch and from the voices I started to hear the kayakers were not far above me. I met them at the abseil – they let me use their rope as mine was a tad too short!?! We got chatting – they had come from Elgol and had kayaked into heart of the Cullins – awesome! Time to become a sea kayaker…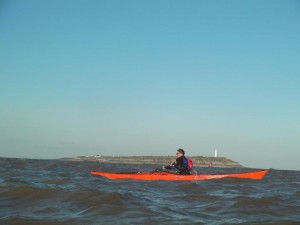 Fast fwd 4 yrs and the nearest I'd got to that ambition was buying a copy of Mark Rainsley's Sea Kayak Guide to the South West (Amazon make buying stuff far too easy!) The opportunity to work at Aberporth came my way and the idea of being paid to live by the seaside was just too good to miss. Everyday I drive past the beach and the coastline was screaming out to be explored… I toyed with the idea of buying a Sit on Top but I was persuaded (cheers Kev!) to head down the Sit-In Kayak route.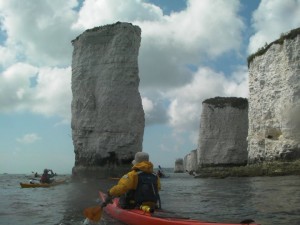 As sea kayaks aren't cheap and it was some 20 yrs since I had last paddled I figured I better get some help. A couple of emails later and I was stood next to trailer on Lower Town Quay on a perfect late March day listening to Mike explain the various features of a sea kayak. He decided we'd paddle to Pwll Gwealod, which ticked all my boxes – I thought we'd be limited to the confines of Fishguard harbour – but a real journey was the Biz!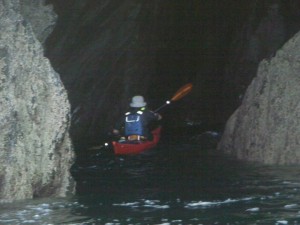 Once on the water I was impressed how well the sea kayak tracked – really easy to keep it going in a straight line. Mike then explained the concept of edging and how you have to edge away to turn a sea kayak. I tried it and yep whilst it wasn't intuitive, it worked. Now I should have given up while I was ahead but hey I'd been sea kayak for at 10 minuntes, it wasn't that hard so it was time to push the (my) envelope… I can confirm that whilst late March days can be warm, the sea is still chilly & Bloc sunglasses don't float! Mike calmly emptied my kayak and I successfully completed my first wet recovery. I managed to remain in the kayak for the rest of the day and we paddled past (and through) some very impressive scenery.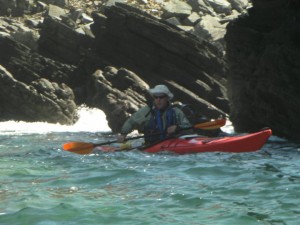 Driving home I decided I had to have more of this!  For my second trip I joined Mike's (ir)regulars for a paddle round Strumble Head – maybe  not a novice trip but it was a strong team… All went well until I followed Andy into a gap… Timing is everything when rock hopping – the suck back grounded me, the first wave spun  me sideways the next one had my name on it.  Being at eve level with a wall of green seawater for the first time was an experience. After some fun in the soup, I eventually escaped & the team recovered me. The paddle to Abercastle was an anticlimax that was brightened up by trying to get 4 kayaks on car roof (cheers Dave!)
Other trips follow including a camping trip from White sands – Abermawr – Pwll Gwealod with a mirror sea and a bag of logs dropped of by Mike to ensure a good campfire,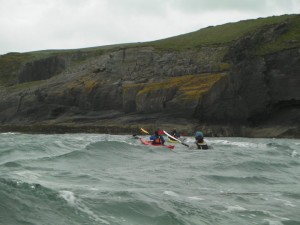 a lively F5 down wind paddle from Cardigan to Llangranog, regular Monday night trips enlivened by locked kayaks, lost keys & seized bearings, a close looksee at the new Newport sewage pipe floating in Fishguard Harbour, the very occasional trip beyond Cat Rock (Ssssh!?), a tough upwind paddle into Dale followed by a 300m carry though mud & sand but mainly mud and a visit to The Bitches on a perfect day – what's the fuss about?!?!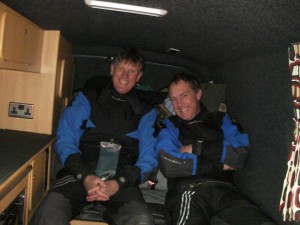 With the arrival of winter, it was time to exchange the sea kayak for a white water kayak – the Teifi Tour was my first WW trip for twenty blah blah years. The first rapid went fine – the rest were best described as challenging and wet!! Each time Mike scoped me out off we went. Since then we've done trips to S & N Wales and I've cracked the art of boofing  & the inadvertent kayak back flip!?! I also have some data to support the theory that there are 2 ways down every rapid – the Mayberry way & the Easy Way!!!!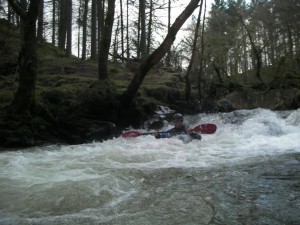 On top of all the fun paddling I knew I had to learn to roll. Success came quite quickly in Mike's pink kayak & the murky waters of Fishguard harbour. Transferring those skills to my white water kayak via the Pool was achieved through a bit of technique & lot of brute force! The sea kayak was having none of that. No amount to brute force or Mayberry coaching was cracking that nut – yes I was close, very close on occasion but it wasn't happening. Then a miracle occurred – it clicked and every attempt since – pool & sea has been successful! :-) I'm not going tell you what happened other than to say if you want to learn to roll get in contact with Mike, listen to what he says & do exactly as he describes. If you succeed – well done if not, go back & work out which bit you were not listening to!?! 🙂