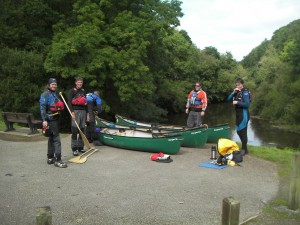 Many of the paddlers at Newport Boat Club Paddlers are three star sea kayakers and some are thinking about getting onto the coaching ladder soon. Â As most of us know, this means they need the dreaded two star award. Â Why is it a "dreaded" award? Â Well, most kayakers have no interest in canoeing and most canoeists have no interest in kayaking.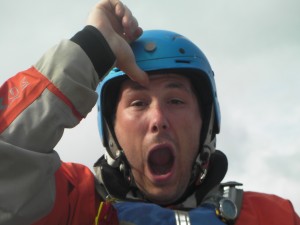 Due to this fear of the canoe, I wanted to get someone in to run the session, someone with as much enthusiasm for canoeing as I have for sea kayaking. Â Unfortunately I couldn't think of anyone (!) so I called T J Date. I had taught TJ to kayak many moons ago and since then he's been a Senior Coach at PGL and has set himself up as Diverse Coaching in Somerset. Â He loves these long open canoe thingys so perfect for my club of sea kayakers that don't really want to paddle them! Â It also gave us a great chance to catch up, all though with some of the stories he has of my younger days it may have been unwise for him to have met Shelley.
The first challenge for our sea kayakers in the canoe was how to make them go in a straight line with only one blade. Â A frustrating time for them as boats kept turning away from them in the beginning.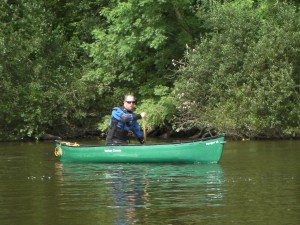 Still, Steve looked cool in his shades, I think he was expecting to get quite wet though; a drysuit in August?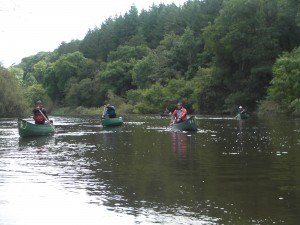 It wasn't long before they were able to head down the river.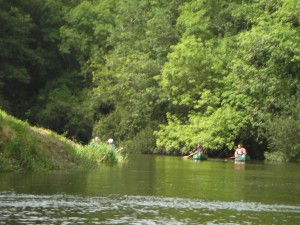 Along the way cross-deck strokes caused headaches for some and lots of other manoeuvres were covered. Â An inside pivot turn? Â Oh, you mean a reverse sweep into bow draw?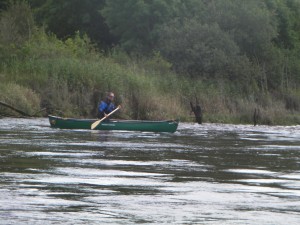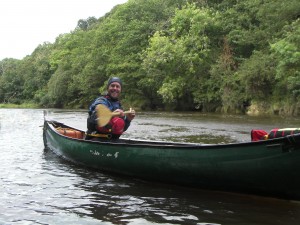 And "Wildwood" Wil looked like he'd been born in a canoe!
Soon we had come to the end of the trip, and an opportunity to get those vital profile pictures for facebook that everyone loves.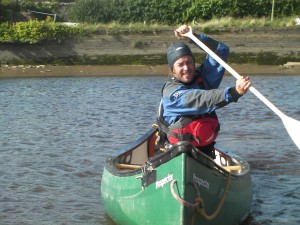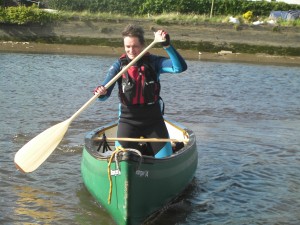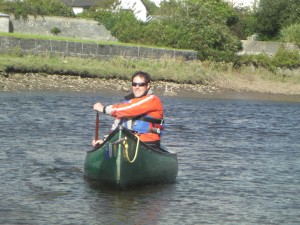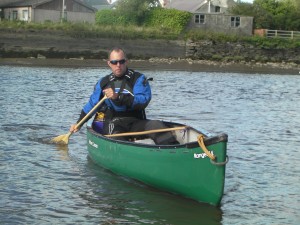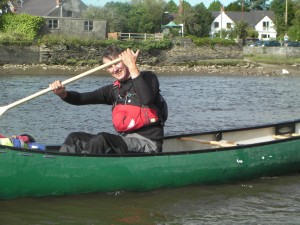 Followed by a debrief on the slipway. Â What was the verdict? Â They all passed the open canoe part of their BCU Two Star Award, but were they convinced by the whole "one blade, one love" side of paddlesports?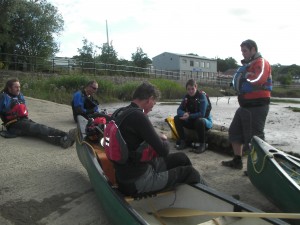 One of them is very keen to go canoeing again and whilst the others could see the benefit the day would bring to their kayaking, the TJ enthusiasm hasn't rubbed of on them yet so they won't be converting… for now at least. Â The Newport Boat Club Paddlers would like to thank Llandysul Paddlers for the use of the canoes.
Feel free to add your comments below!