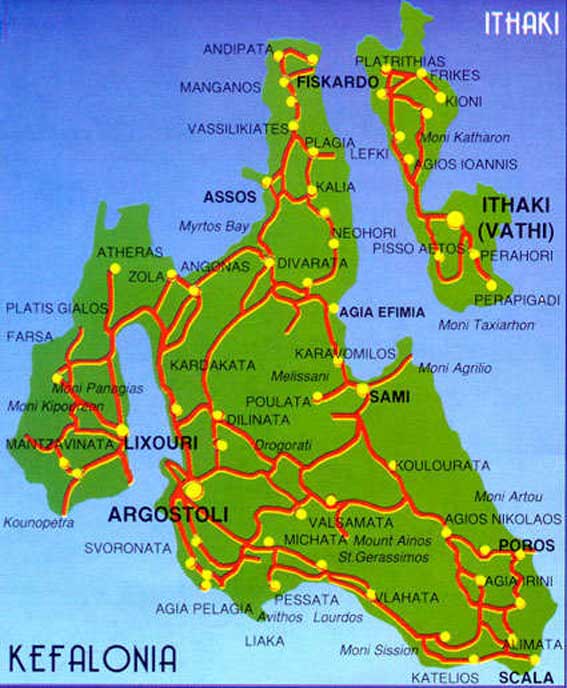 It's seems like an age ago now but in October we went to Kefalonia for some sea kayaking. Â Steve A and Steve B (it's nice when everyone you paddle with is called Steve) came with us to meet Shaun of Kefalonia Elements. Â Shaun's a very enthusiastic South African, married a Greek girl and now lives on the island. Â Having paddled many of the Ionian Islands he was the perfect guide for a week sea kayaking in Kefalonia.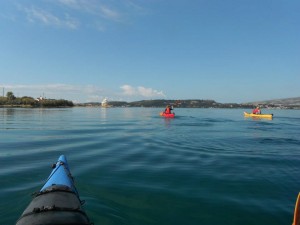 The day we arrived we collected a vehicle so we'd have some transport for the week, did a little shopping and met Shaun for a meal and beer. I think it was around 1am by the time we got to bed and we were up the next day for our first trip sea kayaking in Kefalonia. Â It was a beautiful sunny day, the water was warm, everything we'd expected Kefalonia to be. We paddled from the islands capital, Argostoli, to Lourdata, rounding Cape Ag. Theodoron with underwater springs that run underground from the mountains.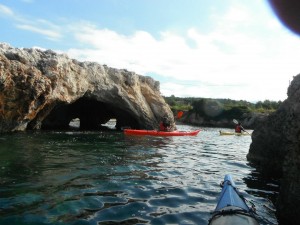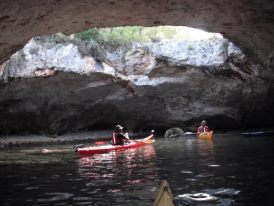 Shaun took us to a collapsed cave, he didn't seem impressed when we told him we have an one in Pembrokeshire, the witches Couldron, and of course we had to stop at a Taverna for lunch.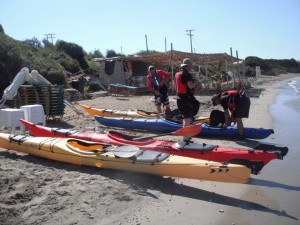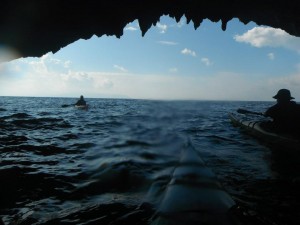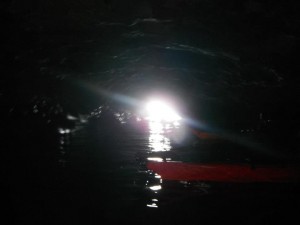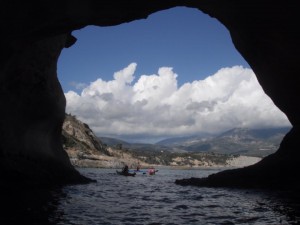 That night we went for dinner and more beer.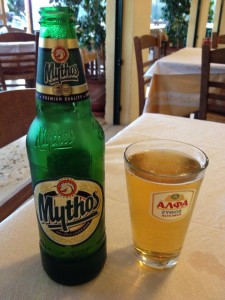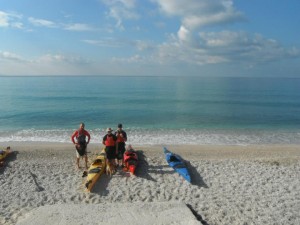 The next day we returned to Lourdata and paddled to Poros, past steep white cliffs.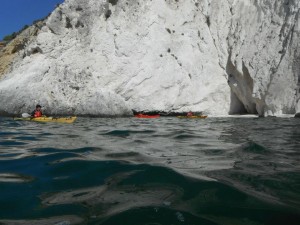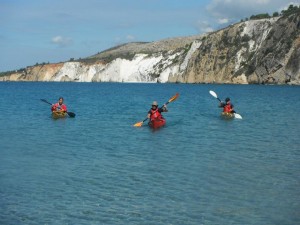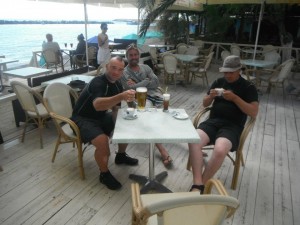 After sampling the local coffee and more beer, we head off and took some time out to climb the steps up to a small church on Zeus' Island.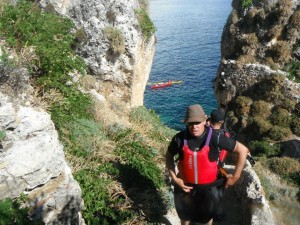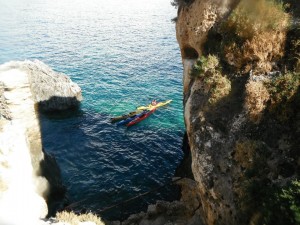 Shaun stayed below to protect his kayaks from the swell against the cliffs. As we rounded Cape Mounta we were able to see how the island is rising form the sea with every earthquake.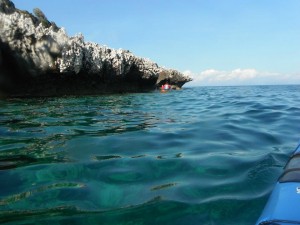 And as we rounded Cape Kapri the view reminded us all of Scotland. Â I also recall a conversation about the animals on the cliff edge, were they goats or "gooooorts"?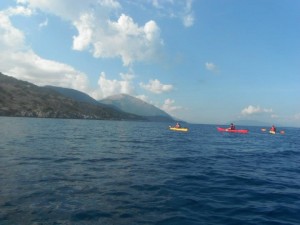 Day three sea kayaking in Kefalonia and we left again from Agostoli, well just outside to be fair. Â We headed across to Lepeda out to Vardiani Island, it felt just paddling to the Bishops but without any tide.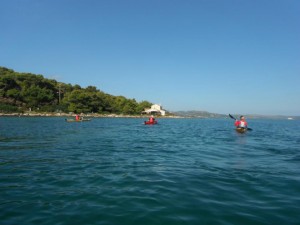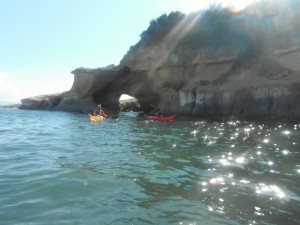 We didn't seem to get many photos this day but here's a nice one of a picture in the church on the island.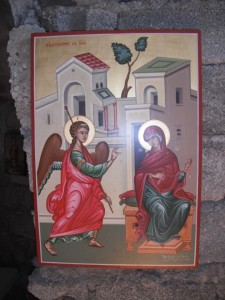 The following day we did the touristy thing and visited the St.Georges Castle and Saint Gerasimos Monastery.  We also went up to Mount Aenos, the highest mountain on the island but when we arrived at the top the cloud had rolled in and we couldn't see a thing.  We waited a while but it didn't clear, we could see the top again later that afternoon!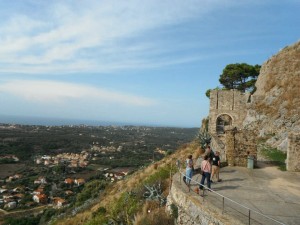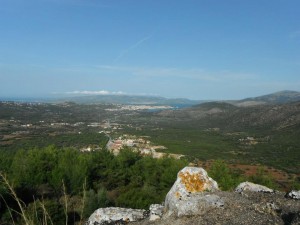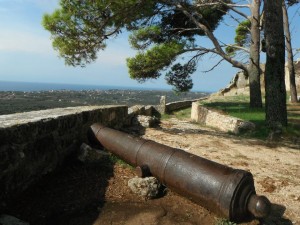 The following day was thunderstorms and strong winds so no sea kayaking was done on Kefalonia that day.
The day after we woke to more thunderstorms which Shaun seemed to think would be passing through and we would be able to paddle. We headed to Zola, arriving right in the middle of a storm.  We were in no hurry to paddle the planned trip to Fiskardo, not keen on being in open water with  a 215cm carbon paddle!  We watched the storms, drank very strong local coffee and hoped they would pass.
Eventually it looked brighter and we jumped on, there were a number of get outs along the route so we headed towards Assos and would then decide on whether Fiskardo would be on the cards.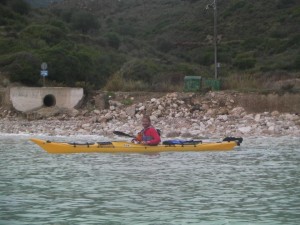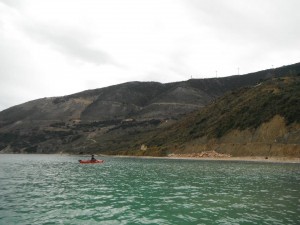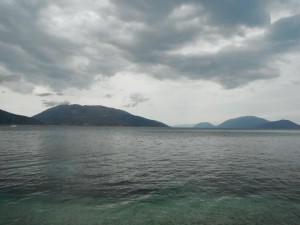 I think it was less than half an hour before we heard the next clap of thunder. Â We um-ed and ar-ed about continueing to Assos or jumping out at Myrtos for a whole 30 seconds before Steve A saw fork lightning strike less than 1km over my shoulder. Â Steve B was already on his way to Myrtos beach. Â They say it's the most photographed place in Kefalonia usually looking this picture we took a day later…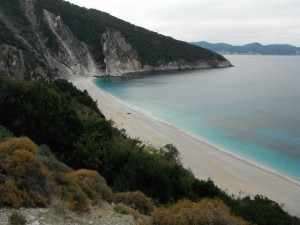 But from the Taverna today Steve B kept us all amused as we waited to be picked up.
We enjoyed our week in Kefalonia, despite the impressive thunderstorms. We're thinking about going back in September to avoid the the storms and maybe do a little island bagging of some of the other Ionian Islands. Â If you fancy joining us then give me a call. Thanks for a great week Shaun, we'll see you in Pembrokeshire soon.