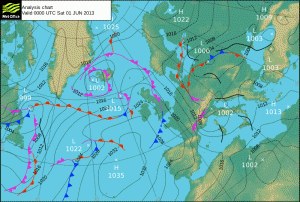 Many sea kayakers spend lots of time watching weather forecasts and making plans for the weekend. Â When the met office start saying that air pressure is building is means that good, settled weather is on the way and many people head for the coast. Â As sea kayakers it means we can get a good trip in, whatever level of ability we are at. Â For some it is a trip along the coast, a paddle around a sheltered bay or estuary whilst for others it can be something more challenging.
We've been watching this weekends forecast since last Tuesday as we had a big trip in mind, to sea kayak across the Irish Sea from Rosslare to Whitesands in Pembrokeshire; but how do you plan a trip like that? Â This was the forecast from windfinder for the Celtic Sea Buoy when we looked last Tuesday.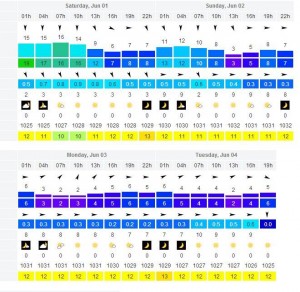 It showed that we might have a window on Sunday, Monday or Tuesday. Â We kept an eye on it and on Friday evening decided Sunday or Monday would be best. Â We decided on Monday due to other commitments. Â Here's how we've planned it.
First of all we need to know what time high water is. Â Milford Haven is the standard port for this area and everything on the chart is + or – high water there. Â Next we work out what the tide streams are going to do. Â We measure the distance from Rosslare to Whitesands and work out how long it will take us. Â We cruise at 3 knots or 6km/h so it will take 15 hours. Â We use the tidal diamonds on the chart and note direction of flow, speed of flow for each hour that we will be out, as well as a few hours after just in case.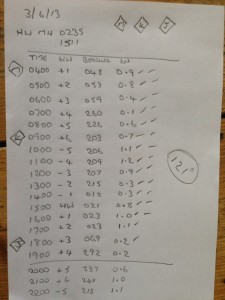 Next we mark out those distances and directions from Rosslare onto the chart. Â We take a bearing from our final mark to Whitesands; the place we want to land. Â As we are on neap tides, on this occasion it is almost a bearing straight from our launch spot to our destination.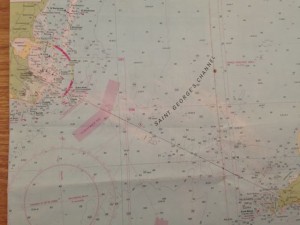 Next we plan every hour where we expect to be. Â We measure 3 nautical miles and then the tidal movement for that hour.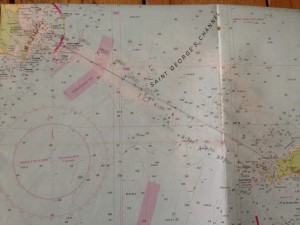 If the last hour matches up to our intended destination then we know that we have done everything right. Â If it doesn't then it's time to go back to the beginning and work it out again. Â A 55 Â mile crossing is not something to mess around with and we need to be sure as we will be tired towards the end of the trip and our minds may make errors if we have to do this at sea.
We will catch the ferry from Fishguard to Rosslare tomorrow afternoon, camp on the beach for the night and set off early Monday morning. Â With tracking on the gps we will be able to compare our plan with the outcome.
I guess I ought to add some sort of disclaimer about only paddling in conditions and on routes that you are comfortable with. Â Always let the coastguard know your movements and make sure you carry the appropriate safety equipment. Â Don't be afraid to book a sea kayaking course and get some coaching to improve your skills. Â The team undertaking this crossing have nearly 50 years of paddling experience and have completed open crossings many times before. Â I've completed this same crossing of the Irish Sea in 2011.
I hope this was useful, please feel free to leave comments in the box below.