The (not quite) top 10 common Wildlife to spot on a Pembrokeshire Sea Kayaking Tour
Having written this it was quite hard to write a top 10 list of wildlife to spot while sea kayaking in Pembrokeshire. I'll have to write some more, subdivided into seabirds, shore life, mammals etc.!
Anemones
Jellyfish
Seals
Spider Crabs
Puffins
Kestrals
Peregrine Falcons
Gannets
Porpoise
Dolphins
Jellyfish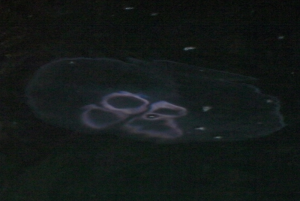 As the water warms up from May onwards the Jellyfish arrive in numbers. Moon, compass and lions mane are the most common. Don't touch or hold the jellyfish, they are capable of stinging even hours after being washed up on a beach and dying. Some people will tell you that not all Jellyfish sting but all, including the moon jellyfish, are capable of at least a mild sting. Leather back turtles follow the Jellyfish but they are shy creatures and you will be very lucky if you see one. There's a very useful pdf for identifying jellyfish available here.
Gannets
Grassholm, 15 miles off the coat of Pembrokeshire, is where the Gannets live. It's a smelly island and not many people have sea kayaked there. These large sea birds come in looking for the mackeral which they catch by diving, like an arrow, into the water from hieghts of 100m or more. You may have seen this impressive move on BBC documentarys but with us you get to it for real!
Seals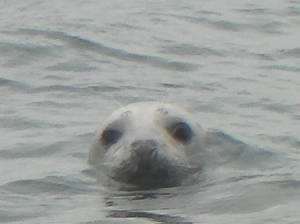 Pembrokeshire is home to the largest population of Atlantic Grey Seals in the British Isles, with many of them making their home on Ramsey Island. Inquisitive and often playful, breeding season for these "labradors of the sea" is in the Autumn when the beaches are full of the white furred pups.
Anemones
Although it was easy to leave out the limpets and other shore animals, I couldn't leave out the Anemones. Stuck to the rocks along the shore anemones come in such a variety of colours. Orange, red, yellow, green and blue are all seen at low tide around the Pembrokeshire Coast. Using sticky tenticles to catch and eat their prey, it is said that our ancestors would have used anenoemomae to make glue.
Spider Crabs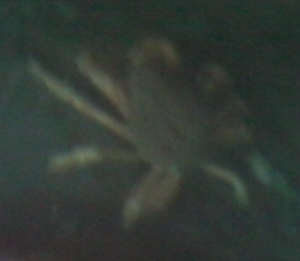 Peer down into the water and hiding in the sea weed or sometimes on the side the cliffs beneath you, you can spot the spider crab. Often the size of your hand and larger, these are caught by the local fisherman and can be eaten locally in some restaurants. They are easier to see as the water warms and after a few days of settled weather as they choose to hide during the storms and who can blame them?
Puffins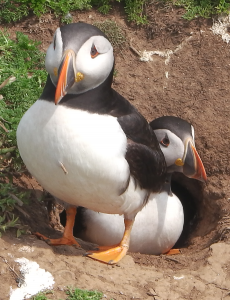 6000 Puffins choose Skomer Island to have their young each spring. These comical little auks are also known as the "Pembrokeshire Parrot". Much more comfortable at sea, where they spend most of their time, you will see them working their wings very hard to stay in the air. Flying past you, their beaks stuffed full with sand eals, you will remember seeing these beautiful forever.
Kestrals
Flying above the cliff tops we often have to watch for a while to distinguish the Kestral. As soon as you see this bird of prey "hanging" in the sky like an angel you will know. Watching it's wings beating to hold it's position it's hard to believe that the Kestrals head is dead still as it picks out it's prey below.
Peregrine Falcons
Peregrine Falcons are famous for being the fastest bird in the world and there is not a week that goes by without them being spotted on the cliffs of Pembrokeshire. Watch them chase and catch pigeons, often only a few feet above your head. It's pretty impressive.
Porpoise
Porpoise have their favourite feeding grounds at Strumble Head and Ramsey Sound but are often seen in many other areas too. If you see them suddenly heading out to sea then it can mean that the, much larger, Dolphins are on their way in.
Dolphins
Regular visitors to the North Pembrokeshire Coast some dolphins choose to be here all the year round. If you see half a dozen or more Gannets circling in an area then keep your eyes peeled, it is usually a sign that the dolphins are around. Often seen in Fishguard and Newport Bay they can be spotted more frequently the further north you head.
Mayberry Kayaking are a fully accredited Wildlife Safe Operator (WiSe Scheme), a 9 year member of the Pembrokeshire Outdoor Charter Group and are signed up to the Pembrokeshire Marine Code, all of which means you can come and view the wildlife with us, safe in the knowledge that you will not be committing a crime against wildlife.