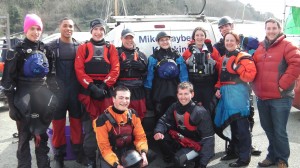 A group of sea cadets from the south west recently visited Fishguard for some sea kayaking with Mayberry Kayaking. Â TJ (on the right) was a cadet back the days when Mike used to coach in the Sea Cadet Corps and is now the SW Area Officer for Canoeing and lucky for us, we were first in his thoughts when people in the area requested a three star sea kayak training weekend.
After talking with the group over breakfast I learned that almost all of them had not paddled on the sea before so we went through some theory on tides, buoys and weather, put some in doubles and some in singles headed off to give them a good sea trip in the calm seas and sunshine.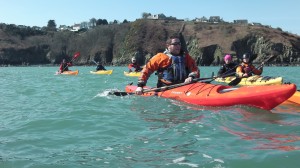 The emerald waters of Pembrokeshire were going to make sure they showed themselves off as we left the shelter of Lower Fishguard.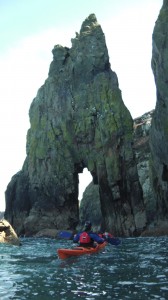 After learning all about the razorbills and guillemots jostling for their place on the ledges ready for nesting and raising their young they were able to paddle through the eye of Needle Rock.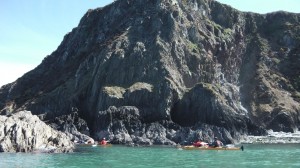 They paddled under towering cliffs…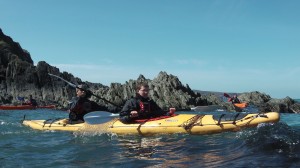 … explored the rocky outcrops…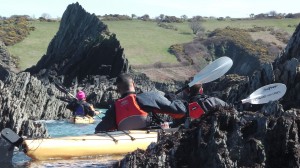 … some of which involved tight turns.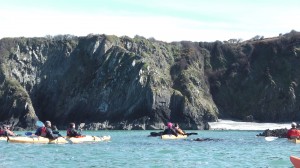 They discovered some beautiful beaches…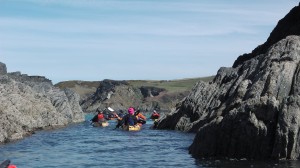 … at the end of some rocky channels.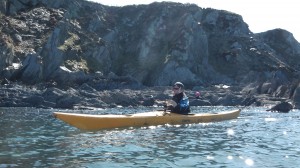 There really was lots of exploring to do with the sea kayaks.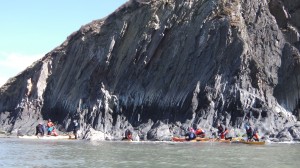 And this was all before lunch! I must admit, lunch was a little later than usual, we'd had a full cooked breakfast in the morning so were ok and they arranged for Sue Gittins from Fishguard Sea Cadets to meet them with hot soup.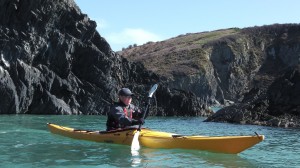 A changeover of people with the double and single sea kayaks and we were on our way around Dinas Head.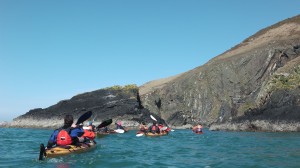 The Devils Scratch or the Smiling Cliff? it's your call!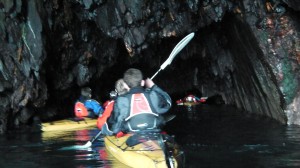 The tide was a perfect height to enable us to head deep into the many large caves of Dinas Head.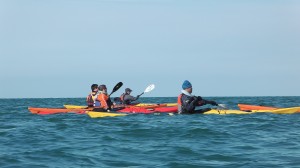 It is 2.5km from Needle Rock to Cat Rock which took 36 mintues, giving an average group speed of just over 4km an hour.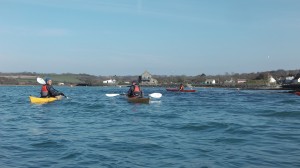 Arriving at high tide we were able to paddle all of the way up Newport estuary to the slipway by the Newport Boat Club.
On the second day the plan was to finish at midday to give them time to clean the premises of Fishguard Sea Cadets and head home, so it was planned to look at fine tuning some skills in the shelter of Lower Fishguard for those in single sea kayaks. Â Laura took a group in the double sea kayaks to navigate across Fishguard harbour to the two breakwaters, covering useful skills like transits.
The group were mainly made up of three star white water kayakers; here they exploring how the outside edge can be used to steer a sea kayak.
Double sea kayaks were swapped for single sea kayaks and then some of them had a go at rolling the seakayak. Â One managed his favourite "back deck" roll.
Thanks for a great weekend everybody, I hope to see you all again soon. Â The entire set of photos from this weekend are on facebook. Please feel free to write any comments in the box below, I love feedback!