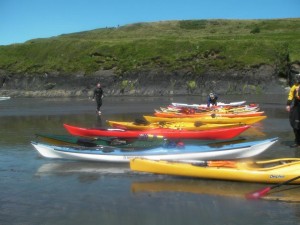 Ever since the West Wales Sea Kayak Meet last year there has been a lot of talk about whether or not we'll be running another one and we're pleased to announce that "yes we are"!
The 2013 West Wales Sea Kayak Meet had been planned for 22nd and 23rd June 2013 but due to Gale Force winds had to be postponed until 14th and 15th September.  June is a prime months for nesting birds on the cliffs of the Pembrokeshire Coast so we hope you like the date.  As before, there will be one hundred experienced sea kayakers paying £30 each into a pot and all profits will be split equally between the Wales Air Ambulance and the Royal National Lifeboat Institution. Details on how to book are on the UK Rivers Guidebook Forum.
As last year, there will be a variety of trips on offer, some easy some more challenging. Â There are twenty guides who will pair up and decide which trips they are comfortable going on. Â They may or may not be qualified and it's their choice if they tell you or not. Â They are there to help you find your way around and ensure that everyone stays together. They are not there to coach you or help you through conditions that are beyond you. Â If you need this then book a course or trip with Mayberry Kayaking instead. Â If you arrive at a location and the conditions are too much for you then don't get on the water. Â They will look out for you but the message is that you are responsible for yourself.
This years event is based at a different location so be sure to read the information provided below.
Useful Info
Camping is at the Phoenix Centre in Goodwick.  Trailer tents will not be allowed, no exceptions, on the fields but there is a grassed area next to the car park.  The Phoenix Centre's address is Goodwick Sports Club, Wern Road, Goodwick, Pembrokeshire SA64 0AA.  Arrive after 5pm.
We will be in the Glendower (five minutes walk) from 7pm onwards on Friday 21st and look forward to seeing you there as you arrive.  The address is Goodwick Sq Goodwick SA64 0DH‎.
If you are arriving from the Cardigan direction then the infamous Moby Dicks in Dinas is ideal for grabbing a last minute bag of fish and chips! He's open until 9pm.  From Haverfordwest, then Something's Cooking in Letterston is the best place to grab some.  There is also a fish and chip shop in Goodwick and Bernard at the Glendower doesn't mind you having them on his tables out the front of his pub, be sure to buy a drink though!
On both mornings the Beaches Diner will be opening early for us at 7.30am.  Paul does a really good cooked breakfast for £5, much easier than cooking your own.
On Saturday evening we will be at Phoenix Centre where we have the use of their bar b q, all you need is something to cook on it and the bar will be open!  I will reiterate, we do not supply any food on this weekend, you will need to bring your own!
OS Landranger 145 and 157 cover the Pembrokeshire Coast and Southern Ceredigion.
Maps and charts, tidal constants and streams can all be downloaded as jpegs for printing from here. Milford Haven tide times are available online here.
Some trips maybe out and back to the same place, others will be an "A to B" trip and may require the help of the national park buses. Timetables can be downloaded for the Poppit Rocket, the Strumble Shuttle and other national park buses if required.
Shore based contact details will be posted here closer to the event.