In September we had planned to sea kayak from Newport, Pembrokeshire and circumnavigate Wales. We wanted to raise money for the Cardigan Bay Marine Wildlfie Centre. When it came time to leave, the forecast for the week was appalling so we decided to start on the canals. We managed two days sea kayaking down the estuary before the weather turned against us again and we had to land by a power station. With no changes in the forecast and deadlines approaching, we left and decided to go again in April 2012. The trip was very useful as the canals had previously been an unknown to us and we learnt lots to use on our next trip. Here's our account.
Wednesday 7th September 2011 – We had arrived at the Cheshire Cat on the previous evening and ate a hearty meal before sleeping in the vans overnight. Within an hour of starting we'd already lost a pair of glasses to the canal. That day we negotiated ten locks but hadn't had to carry the sea kayaks around any. We'd been lucky enough to arrive as a narrow boat went through each time and there was just enough for us to squeeze the sea kayaks in behind them. It was a dry day which was nice until the last hour when it decided to rain. We kayaked 22 miles and stopped at Audlem for the evening. I was still getting over man flu so headed to bed early but the guys went to the pub. It turned out that Neil had forgotten a cooker, three to four weeks away sea kayaking and he had nothing to heat food up with!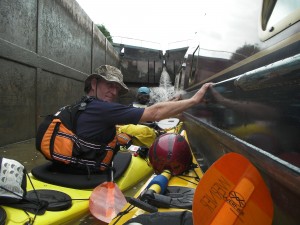 Thursday 8th September 2011  – " I woke feeling much better having had a good nights sleep. We had left the sea kayaks tied up on the canal, hoping that another narrow boat would arrive just as we were ready. We were facing 15 locks in a row and hoping to hitch a lift up through like yesterday. Just before we had packed the kayaks, we were lucky, one arrived. We rushed to secure our towlines and walked them through the first one, remaining equipment just thrown into the cockpit for now. Once through the first I was quickly packed and ready to go, the others almost, we didn't want to miss the easy route through the locks. In hindsight this method took a long time. It was ten to fifteen minutes a lock, next time we will carry the sea kayaks around these ones. We covered 20 miles this day, arriving at Norbury where we managed to get showers. It rained in the last hour again. Someone kindly left the toilet/ shower block door unlocked for us, also to the fresh water taps that were there. We learned that keys are available for £7.50 and bought one the following day. It proved to be very useful.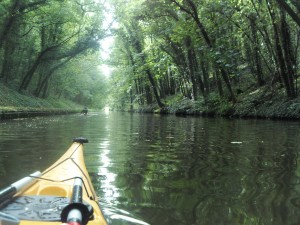 Friday 9th September 2011 –  As well as a key for the water, we decided we would also buy a windless key for £12 so that we could at least help the people we were sharing the locks with. This was an awesome idea as we now didn't have to wait for a canal boat to come through or carry the sea kayaks. We set ourselves up in two pairs, two would jump out and do the lock, and the other two would tow the empty kayaks through. We would pass the key like a relay team and go ahead to the next lock, jump out and start the lock as the next pair arrived to tow our kayaks through. We started to get a good rhythm and it was nice to have the chance to stretch the legs.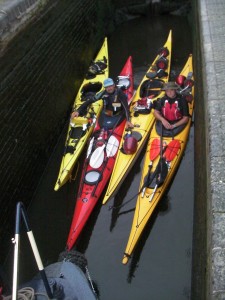 I'd found that in the first hour each day my right leg would go to sleep and the left leg in the following hour. After that both were fine, but with 9 hours sea kayaking each day our legs were definitely feeling it! By lunchtime we had finished the Shropshire Union Canal and decided to mark the occasion with an ice cream. Paddling now on the Staffordshire and Worcestershire canal, we made Awbridge that evening. Once again it rained in the last hour but cleared for a very nice evening. We were greeted by a lovely family who asked what we doing. When we told them we were sea kayaking around Wales, they had a great story of two girls doing the same ten years previously. Justine and Fiona they remembered you fondly and gave us the same warm welcome. We were supplied with fresh eggs, butter and a few other bits.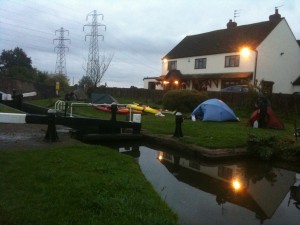 Saturday 10th September 2011 – We were up again and ready to launch by 9am, our routine was becoming ingrained. We made good progress, using our relay system to get through the locks. Everyone we met was intrigued by these sea kayaks that were flying past them in their narrow boats. We were only cruising but those boats seemed so slow! As usual, at around 4pm we were looking at the maps to decide where we would get to for the night. It was more relevant tonight as my wife Shelley and Neil's partner Caroline were on their way to see us. Those two really can't navigate so we had to find somewhere easy for them. We were approaching Kidderminster which would have been great for them, but not a great place to spend the night camping. The heavens opened as we arrived in the centre and the few locks we had to negotiate needed more than just the windless we had. We were all very tired and knew we had to leave the town for the night. We were all a little grouchy and the rain didn't help. It took us forty-five minutes to lift the sea kayaks around a lock and get back in. It was the first one we'd had to do. The windless really had been a good idea but didn't work here as the set up was different. We left the town and the rain stopped, we met the girls just outside of Stourport at a place easy for them to find from the main road. It didn't look like it was going to be a good place to sleep but actually turned out ok. There was music blaring out from a nearby field, but that stopped by 10pm.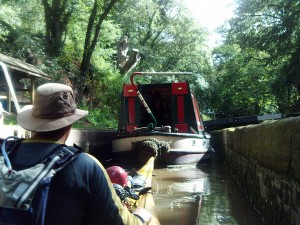 Sunday 11th September 2011 – We were nearly at the river now, something I'd been looking forward to. The canals were nice but there was no flow to catch with the paddle and drive the sea kayak from. At Stourbridge we were now on the River Severn. It seemed very wide compared to the canals. The scenery was fantastic. The girls had stayed for the day, following our progress down the river. They met us at Worcester for lunch, Shelley had picked us up some filled buns, microwave only, whoops, I'd packed mine deep in the rear hatch and was willing to pull everything out to get to it! That evening we stopped at a field at the end of a lane. It was the only place where we could secure the sea kayaks without having to lift them out but turned out to belong to an angling club. Two arrived for a night fishing session at the same as we did. Fortunately they had no problems with us being there and offered to keep an eye on our kit overnight. It turned out that the lane went up to a delightful village with a great, friendly pub, the Rose and Crown at Severn Stoke. We had a nice meal there that night.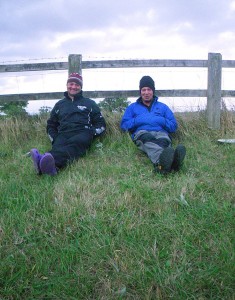 Monday 12th September 2011 – The forecast from the previous evening suggested that hurricane Katia was coming through today and when we woke it was certainly windy. We looked at the wind on the water, it wasn't that bad. A look at the maps suggested we were heading to more open plains as we went down the river. I think it was all excuses, but the long the long and short of it was, the team decided to stay put and go to the pub! Steve's wife arrived today to visit and I walked into Upton for a few hours, it was a nice break from the kayaking but I was keen to get going again the next day.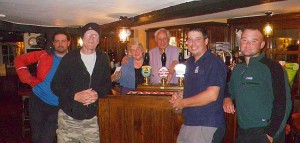 Tuesday 13th September 2011 – Back on the river and we kayaked 26 miles, a reasonable distance but then we had had the previous day to rest. We went through Gloucester, not the nicest part of the river if I'm honest and had to re enter the canal system due to weirs further down. It meant that in Gloucester we were able to sample the tastiest toasty in town, right on the bank there; it was very nice. That evening we made it to Quedgley, opposite a pub called the Pilot. A friend of mine came to meet us that evening with some spare parts, a new deck as mine had started to fail. We don't think his girl friend was keen on our smell, by now it had been five days since we showered. Apparently I was the least smelly which was nice; it must have been because I'd been kayaking in the Howies Marino Wool tops we'd been supplied with.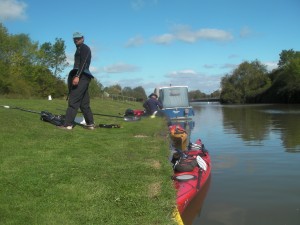 Wednesday 14th September 2011 – By now we were down to three of us. It was only twelve miles to the end of the canals and the start of the Severn estuary. We knew that the tide there wasn't in our favour until the following day, unless we fancied a night paddle, so we were in no hurry. The morning involved a short walk to Tesco for breakfast before packing up and leaving. It seemed like we stopped at every coffee place along the way. We arrived at Sharpness at 4pm, the estuary was a sight for sore eyes, and we'd sea kayaked down the canals. What I saw in front of me, I knew, tides that moved with the moon, water that would help or hinder you if you got it wrong. That night we were told of a Dockers club up the hill so went to investigate. It was an excuse for a pint, a hope for a shower and food we didn't have to heat up. We all ordered food, a meal and a portion of chips each. We were asked if we were shore about the extra chips each to which we replied yes, burning 3000 calories a day from the kayaking we'd learned that a normal meal was leaving us still hungry. When the food arrived we realised why they had asked, they were biggest plates of food I think I've ever seen. Their usual customers are big truck drivers; still, we managed to clear them, not bad for small, short people like us. After eating we got the charts out to plan the next day journey. By now people were wondering what these very hungry people were up to, so we shared our story. We asked about showers, thinking that there might be somewhere the drivers can use. There wasn't, but once they knew what we doing the owners very kindly allowed us to use the one in their flat. I say 'kindly', it might have been the smell perhaps?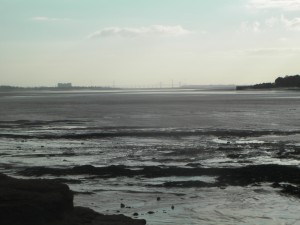 Thursday 15th September 2011 – We were ready in time to catch the tide turn at 10am. We had a small party there to wave us off, a local guy who knew the estuary well and a young lad who was also camped there fishing for three weeks. They were impressed with what we were trying to achieve. The bridges looked a long way off but with the ebbing tide we kayaked there in no time.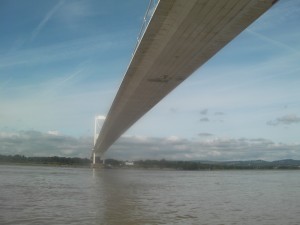 Kayaking under those bridges is an experience that I will always remember, fantastic. The gps was reading over 12km per hour at one point. We arrived at Clevedon at 2.30pm and quickly decided it had been given the wrong name, it should have been called Clevemud. There was nowhere easy for us to land, it was either knee deep mud or the rocks. We chose the rocks and tied the sea kayaks together. I stayed with them, the intention to float them up with the tide, whilst the other two went to find somewhere we could camp. They returned an hour later. They had some possible places but we wouldn't know for a few hours. It 6.30pm by the time we had finally found somewhere, the local kayak club offered us their store shed for the night, thanks guys! It was nearly 9pm by the time we were sorted out and I started to work out the bearing for the following day. Three times I checked it and I got a different answer each time, I was very tired, so we decided to leave it and went for food.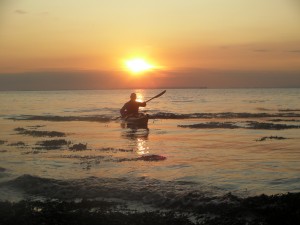 Friday 16th September 2011 – We were up and ready to go by 9am again and I still had to work out the beaing to cross the Severn Estuary Channel. We checked the forecast and learned that the wind was due to swing from north-west force 2-3 to south-west 5-6, expected around 5pm. We had hoped to take in Flat Holm on the crossing but thought it best to get across in case the weather arrived early. It did, at 3pm we were well across and just coming past Aberfraw powerstation when the weather arrived. We could see it on the horizon and it bought driving rain. It was clear skies beyond and we hoped that the wind at that time was just the front. After it passed the wind didn't drop; we'd intended to reach Llantwit Major but instead decided that we would land rather than battle into the wind. We found a field to camp in. This would be our last camp spot on the trip. We remained for two days and there was no change in the weather forecast. We all had deadlines that were approaching and so we decided to return home. We will start again in April 2012 to sea kayak around Wales, hopefully we can start from Newport, Pembrokeshire this time, I'm sure it will be much nicer that way.