The 2012 diary of our attempt to sea kayak around Wales in order to raise awareness and donations for the Cardigan Bay Marine Wildlfife Centre. You will have probably read that in September 2011 we were beaten by hurricanes and deadlines. The forecast this time is not looking much better for us sea kayakers as constant low pressure systems are set to cross the UK and Steve has jury service on the 14th May. With this in mind we chose to start from where we left off in the hope of at least completing the Circumnavigation of Wales by sea kayak over two trips. Fingers crossed!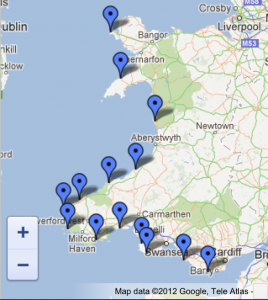 Thursday 19th April – Aberthaw to Porthcawl. We sea kayaked into a F4-5 headwind and I have to say, "it wasn't much fun"! We had intended to reach Port Talbot but Porthcawl looked much nicer and we only had an hour left of tide, so we decided enough was enough.  Camping here would provide us with an ideal jumping off point and, weather permitting, would enable us to sea kayak across to the Mumbles tomorrow.  We found ourselves a nice, grassy camping spot by a coastguard tower, away from the crowds.  The afternoon saw us drying kit in between the rain showers, as well as planning our route for the following day.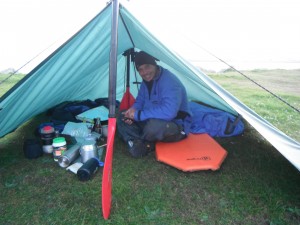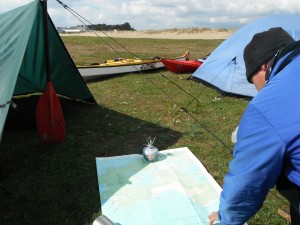 When we walked into civilisation for an evening coffee, water etc., we noticed that Steve's tent stood out like a blue beacon on the headland; although out of the way, we were clearly visible to everyone along the coast!  It was a pleasant sunset to watch.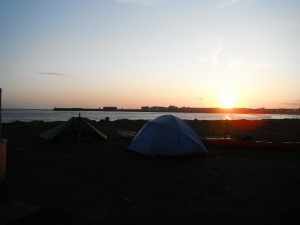 Friday 20th April – Porthcawl to Port Eynon. Today the tide will run for us until around 1230.  We made good progress initially, with Mumbles Head quickly growing in front of us; I love the way in which the details like buildings, houses, cars amongst others gradually come together on crossings. As the morning progressed though things changed.  "It could be worse though, it could start raining", "oh it is!" was the conversation of the day; at one point we even had hail.! The last hour into Port Eynon was really hard, the walkers on the cliff were passing us; at least now the sun was shining. It was difficult to stand on arrival at the beach, it was harder than after the Irish Sea Crossing. Despite the conditions, we had sea kayaked 40km, the F4-5 wind and 1m swell cancelling out the 3-4 knot tide beneath us during the six hours; it felt like we'd started.
We found a great camp spot; it was along a popular walk route and we met some nice people, the cards we had made being given out like hotcakes.! It was due to be an early start for the the tide tomorrow and we both ached from the day.
Saturday 21st April – The alarm went off at 5am but both of us were stiff and very tired from the two days paddling into a strong headwind; we decided it was too early and would take another ten minutes. We woke up again around 9ish and kicked ourselves when we did; the wind had eased all morning, but we decided our bodies had obviously needed the rest. The afternoon saw the wind pick up again but studying the forecasts, it looked like it would ease again in the evening for a few hours. This was handy as we'd since been told that the patch of grass we were on would be needed for parking on Sunday.  We added lightsticks to our kayaks and ourselves, wore our head torches for map reading and left at 9.30pm into little wind but a moderate swell; the shadow of Worms Head against the clear night sky was beautiful. The swell rebounding from the cliffs meant we needed to stay out a bit further than we'd have liked, but watching Saturn in the sky we found ourselves landing at Worms Head to carry over, avoiding the breaking waves we could see and hear on the Head.  There were a few fisherman who seemed surprised to see us! Staying away and avoiding the surf on Llangenith and around Burry Holms Head made navigation towards the end quite difficult; it was 1.30am the swell was quite large and I wasn't looking forward to landing. I asked Steve if he wanted time to put on his helmet, he said "no, I just want get off", I fed him chocolate and we went slowly in.  We didn't want to surf in if we could help it.  Slowly we approached the beach along the right hand side, as this would offer the most protection in the swell direction we had; the sand dunes ahead getting closer, we identified an RIB Station and knew we were getting close, always ready to slow ourselves as the back of the kayak began to lift. Then our paddles hit the bottom, we'd arrived on the beach with far more shelter than either of us expected.  We were dry, hadn't lost anything and Steve was still talking to me; it was Steve's first night paddle and wasn't exactly the gentle introduction he needed but the landing couldn't have gone better.  We had a 600m carry to get the kayaks above the tideline and found ourselves a patch of grass to camp on. It looked like a great spot but we might have to move in the light to somewhere more sheltered from tomorrows expected wind.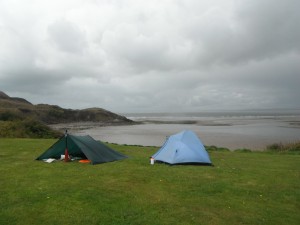 Sunday 22nd April – gale force 8 winds forecast. We slept past 10am the next morning and seemed to be raising eyebrows from the dog walkers passing by.  We were in a field overlooking the River Lougher and Carmarthen Bay; I've slept with worse views I suppose! We wandered up to Limekiln Point to have a look at the sea and decided we'd best stay put; when you have the wind on your back and you can still see the white horses you know it's not a good sea state.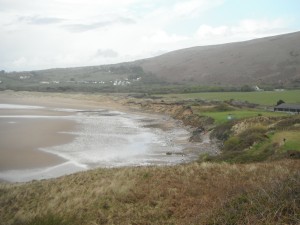 The hills of the Gower seem to be sheltering our camp spot perfectly and we leave them where we are, with the very kind permission of the landowner, who had been to see us. We sheltered from the rain and drank coffee, occasionally checking forecasts for any updates.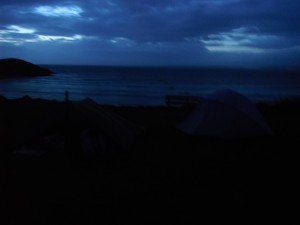 Monday 23rd April – Still the gale force winds were blowing, they had backed 180 and we were still sheltered, but the sea looked rough.  "It could be worse though, it could start raining", "oh it is!" was once again the conversation of the day; at least we had our humour.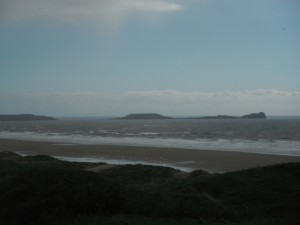 The forecast suggested that the wind might ease from lunchtime but then the tide will be on the flood.  We studied the chart and decided that the F5 easing to F3 crosswind would be bearable for a few hours.  We would leave at 3pm and paddle to Pendine, so we could cross to Tenby from there on the morning tide.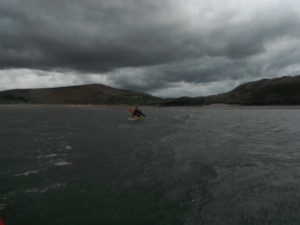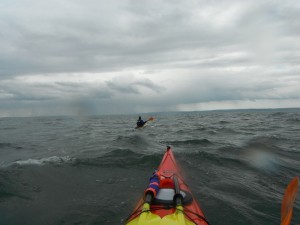 We crept around the inside of Carmarthen Bay, the sun appearing dried us out and the last two hours were nice to paddle.  The sky ahead displaying the perfect diagram for the passage of a frontal system.  We camped on the Dunes underneath the MOD Range.
Tuesday 24th April – Pendine to Freshwater East. We were up at 6am and ready for the start of the ebbtide.  The forecast was again telling us to expect gale force winds and we identified a campsite at Freshwater East, which would be better sheltered overnight and with a campsite, showers and facilities could be used!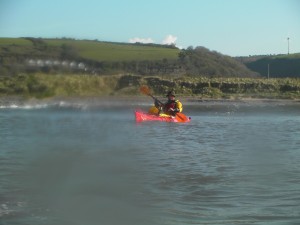 We jumped on at 8am and headed for Caldey Island and Tenby.  At 9am we were approached by the MOD Safety Boat and informed they were firing and we needed to be outside the special marks. We'd almost crossed it on our route and continued the next 500m with an escort until we left the Danger Area. He informed us that Manorbier were also firing today. We had our VHF and would be able to call in once we were there. Another half an hour we were in Pembrokeshire; now we were going to make some progress, I thought.  I know where all of the little beaches were so that we could utilise the tide and ride that extra little bit further.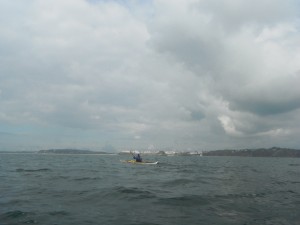 We passed Tenby and had the UK Border Agency decide to drop anchor right in front of our path; we'd seen them from way off but it wasn't clear what their intentions were, so we kept an eye on them.
They went slowly round in circles, back and forth, from a few miles away and then as we approached they dropped anchor almost in front of us and certainly close enough for them to see us by then, "ok, I guess we'll go round then". And then we are approached  by the Manorbier Range Boat, it was a day of authorities! We explained we were going to call but were still 30 minutes from there, he seemed fine with that and left.  As we approached Old Castle Head we had the best seats in the house for the test.  We called in and were told it was safe to pass but take the shortest and most direct route through; Freshwater East was straight ahead no diversions required!  The South Pembrokeshire sandy beaches looking great in the blue skies and gentle breeze; it was almost hard to believe that in a few hours it would all be very different.  We arrived at Freshwater East 12pm with thoughts of pastry and coffee but were surprised there was nowhere to have one. We enquired where the campsite was and went of to search it out.  It was a Caravan and Camping Club approved site; we went to see the Warden's, who were happy for us to stay despite them not usually accepting campers for another few weeks.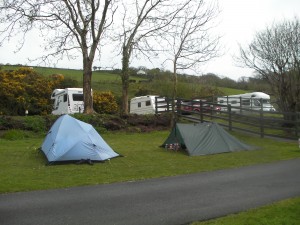 We secured our kayaks above the tide and sheltered from the overnight weather and carried everything we needed to the site.  With our kayaking kit and sleeping bags it wasn't long before we attracted an audience and everyone was keen to hear our story.
Wednesday 25th April – Howling wind and rain overnight! Even in the sheltered campsite it was wild. I think many of the caravaner's were surprised to see us both there in the morning and looking well rested after a good nights sleep. We used the facilities again, it was nice to have another shower.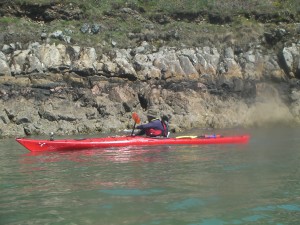 Late afternoon we paddled around to Stackpole Quay so we wouldn't risk waking the caravan park up early when we packed.  We cooked dinner surrounded by birds who were almost eating from hands.  As soon as we'd finished the heavens opened and we retired for the night, it was only 8.30pm!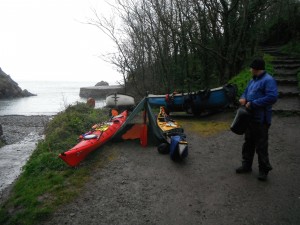 Thursday 26th April – Stackpole to St Martins Haven, We were up early for the morning tide around the Castlemartin Range; we'd already been informed they had no planned tests until the following week.  We paddled into a F4 headwind all tide again and once again put up with hail stones in our face.  It was a hard paddle through Jack Sound into wind and tide and we were glad to land at Martin's Haven.  We talked about getting back on after some food to cross St'Brides Bay to Porth Clais but the wind had taken enough from us again. We had coffee from the Skomer Island ticket seller and then set up camp, sheltered from the cold Northerly wind. A long walk into Marloes was rewarded with a nice pint late afternoon.
Friday 27th April – St Martins Haven to Whitesands. We woke to the wind having veered to the North East which was typical of our luck; we were planning to round St David's Head and head North East! It took us three hours to cross St Brides Bay when it should have only been two so we decided Whitesands would be enough. Approaching Ramsey Sound we were a little apprehensive but it looked like the calmest water we'd seen so far on the trip; I knew the line very well and we made our way into the sound. Horse Rock looked absolutely amazing as we flew down the right hand side of it, over a large, unbroken North Westerly swell. The highlight of the day was watching Steve 15 foot above my head as we passed from the north end of the sound into Whitesands Bay.  Steve says he doesn't remember it as he had his eyes shut the whole way through! We battled the wind the final mile into Whitesands Beach, got changed and checked weather forecasts over a coffee. It seemed likely that we were going to be around a few days.
Saturday 28th April – We didn't fancy the paddle into the Force 5-6 NE headwind towards Strumble Head, only to then be storm bound by the Gale Force 9 winds for a possible two days on a remote beach. We were only twenty miles from home we jumped on a bus for a warm bed for the weekend. We hoped to paddle again on the Monday but it will, of course, depend on how long the storm takes to blow through.
Sunday 29th April – We were tired but it was nice and warm in front of the home fire. Fishguard Bay looked worse each time we looked out of the window; we were really glad we decided not to wild camp through the storm.
Monday 30th April – The forecast for F8 dropping to F5 NE and perhaps it was the warmth of the house or the half bottle of whiskey from the night before, whatever it was we didn't go back to Whitesands to recommence our paddling.
Tuesday 1st May – The wind was forecast to drop and we headed back to continue from Whitesands. The bay had never looked so calm, and then we got to St. David's Head. Once again we were not in Neptune's favour, with wind and rain in our faces. We had hoped for a big day after our rest but only made it to Abermawr, there was no way we were going around Strumble Head today. As we arrived the sun came out and the wind dropped a few hours later.  We decided to camp on the Aberbach beach and spent the afternoon drying out our kit again in the afternoon sun.  We gathered fire wood but it was too wet to get started properly for us.  The next tide was overnight and we were going to have to wait until the following afternoon to leave.
Wednesday 2nd April – Abermawr to Poppit. We had beautiful conditions around Strumble Head. We had a bearing to head straight at Camaes Head and headed that way. We had to wait for the ferry as we didn't want to get run over but this wasn't a problem. As soon as it passed we were on our way again. Off we went and the mist started to descend. I had been really looking forward to flying past my patch and seeing it from miles out and now it wasn't to be. We stayed on our bearing and after a couple hours the wind picked up from F2 to F4 in less than an hour. As we arrived at Camaes we had to land as Steve's skeg had stopped working and my temperature plummeted, I'd left the cag off too late in the wind. We set ourselves up camping next to the old Lifeboat slip and I set about rewarming myself.
Steve repaired his skeg under a headtorch in between rain showers, a first for us both I think. Almost as soon as we finished eating the heavens opened again; we sheltered under a tree before turning in for the night.
Thursday 3rd May – Poppit to Newquay. Much calmer seas today; it was a pleasant paddle for a change. Neil came out to meet as at Aberporth and joined us for the paddle. We landed at Newquay to call into the Cardigan Bay Wildlife Centre, for whom we were raising money.  They came out in full and photos were taken before we found a campspot and a Fish and Chip shop. An evening pint with the Lifeboats Crew and a good banter was time well spent.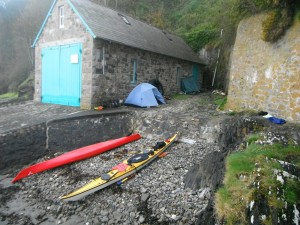 Friday 4th May – Newquay to Tywyn. In the morning due to the tide we didn't want to leave until 10am so we packed our camping kit and went for a cooked breakfast. Lots of people said hello, word had spread about the two sea kayakers, camping and raising money for their local centre. We covered 45km today, an hour after we started the mist came in and we lost sight of the land.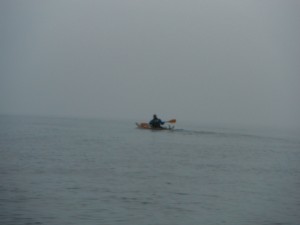 I added 10 degrees onto our bearing to ensure that we wouldn't miss our destination as there was no benefit to going further into Tremadog Bay if we missed Pen Bach Pt. 5 hours into our paddle the mist began to lift again and we were able to take a resection from two towers and a mast. This confirmed we were about 1km to the east of where we had planned to be if we'd paddled our original bearing, so we were happy we'd done the right thing in case the fog hadn't lifted.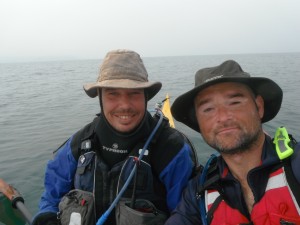 The wind then started to back to the NE and I knew in another hour or so it would increase, which it did. It funnelled down the Dovey estuary and was hitting us side on; a little lumpier for a while and then the hills provided a little shelter for us in the last hour. As we approached the beach the tide stream was visibly taking us from right to left and we landed next to a flat piece of grass to camp on.  A farm fence provided the perfect drying facility.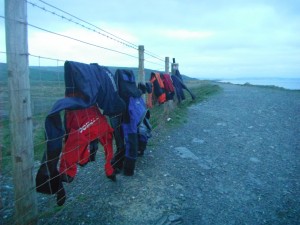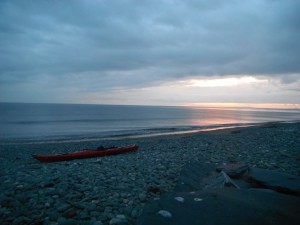 Saturday 5th May – One of us is a little stiff, with a few niggles today, it's not me so I'll let you work out who it is; we have to listen if our bodies are telling us something and stay put. We wandered into Tywyn for breakfast at the railway and to use the supermarket.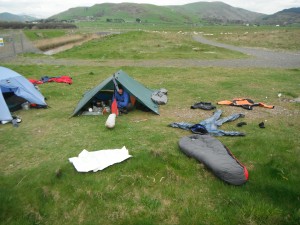 The rest of the day was spent airing sleeping bags and planning the tide for the following day. The wind was forecast F4 today and F2 tomorrow so a great forecast to cross to the Llyn Peninsular and hopefully beyond. A 12+ hour day?
Sunday 6th May – Tywyn to Morfa Nefyn 81km. "The day we rode the tide".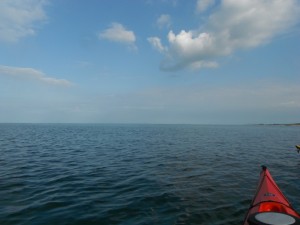 Today was exactly how we'd imagined this exped to be when we first planned it, calm seas, no swell, no wind and a spring tide beneath us. We jumped on a little after 8am and paddled glass smooth seas across to Porth Ceriad. The tides around the Peninsular weren't due to start until 1349 so the plan was to arrive around then and have a quick lunch on the beach before riding the tide to Morfa Nefyn and thats exactly what we did, we even had porpoise to keep us company at times.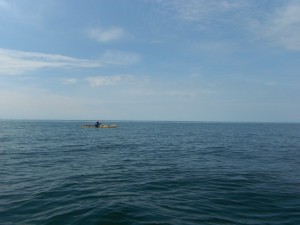 It seems so long ago that I've paddled seas this calm, it was certainly our first on this trip; looking at the forecasts I feared it maybe our last too.  We landed at dusk having found a grassland immediately around the corner from the lifeboat slip, very pleased at the distance we'd covered, with half an hour of tide still to spare.
Monday 7th May – We were woken up by pounding wind and rain, why didn't we spend a little more time last night finding a more sheltered spot? "Its not too bad, the rain is horizontal". From the forecasts we knew we wouldn't be going anywhere again today and decided to do what all marinas do when storm bound and head to the pub. Shame it was still only 8am!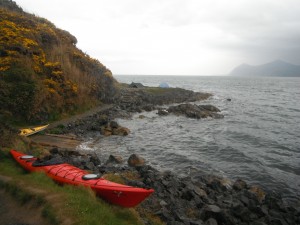 The path to the Ty Coch pub gets cut off at high tide and we wandered around just after 11am. It was open and we met with a warm welcome.  Within an hour and the place was full of walkers sheltering from the weather on their way past, some stopping for food before or after their journey.  There was little space for the numbers and we had a steady stream of people perching on the end of our table to talk to.  After a couple of hours the lady sat on a table close by came over to ask what we were doing as it seemed like an interview Michael Parsons with everyone listening to our story. I think that the three young brothers (8-10 years old?) were very impressed and dad said he'd take them past our campspot to see the kayaks. We went for another walk in the evening and again noticed that Steve's blue tent shone out like a beacon to let people know where we were.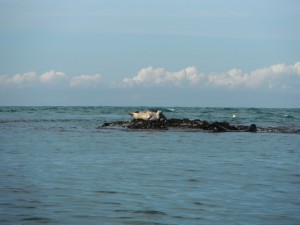 Tuesday 8th May – Morfa Nefyn to Porth-y-post, 40km. Tide wasn't in our favour until 1630 but as it was a nice sunny day we didn't mind. The wind was only F3 when we jumped on and headed north, passing seals on the rock as we left.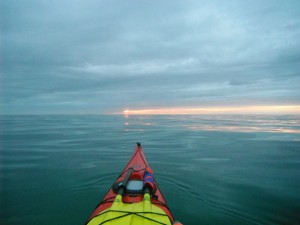 The first couple of hours seemed hard work but we appeared to be making our usual progress. As the evening went on the wind dropped and the sea went glass smooth; it was a nice sunset to watch.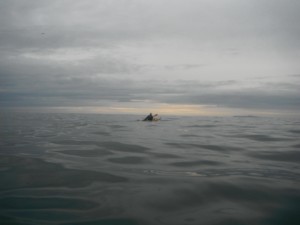 At 10pm we needed to take a resection to work where we were and mistook the light on the Rhoscolyn tower for the mast at RAF Valley; we couldn't work out where the tower was! It was only an hour later when we heard the roar of the tide and we were nearly swept around Penrhyn Mawr that we saw the mast for RAF Valley and realised we were far further north than planned. We'd been lucky and pulled into Porth-y-post at 2230.  As we arrived there was another group coming into the bay along the other cliff.  They didn't notice us as we approached them from behind; then a voice says "what's happened here, I had 6 and now it seems I have 8?" To which asked if there was anywhere good to camp here. It turned out it was James running a five star night navigation training exercise.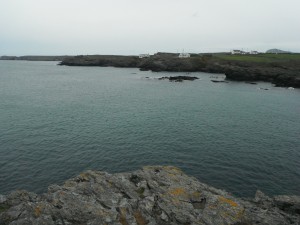 Wednesday 9th May – Again we have no tide until this evening, 1805 and forecasts suggested NE F4-5 for that evening, hmmm, Penryhn Mawr and the Stacks in that wind and fading light? I think not! Tomorrow morning the winds were going to be even stronger and tomorrow evenings no better, what to do?  We looked at our options all morning and into the afternoon; we decided that Friday evenings tide was going to be the earliest the weather would safely allow us to pass through Penryhn Mawr.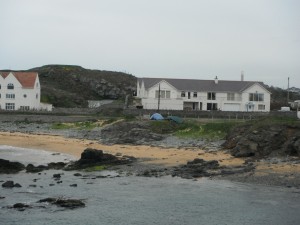 Saturday we needed to be heading home to Pembrokeshire so that Steve could collect his vehicle to drive back to Lincoln on the Sunday, in time for a Jury service commitment on Monday.  Instead of sitting for two days to paddle one more and finish, we decided to make a call and have someone come and pick us up Thursday lunchtime.  It gave an extra day that Steve could spend with his wife and his little boy and me a day with my wife before work would begin again on the Monday.