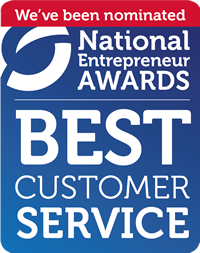 Local kayak coach nominated for national honour at the UK's biggest award ceremony dedicated to entrepreneurship and small businesses.
A Pembrokeshire-based kayak instructor has been nominated for a national award at 2013's biggest UK business event dedicated to entrepreneurship and small businesses.
Owner of Mayberry Kayaking, Mike Mayberry, will join over 1,000 business owners at the ICC in Birmingham this September, to find out if he has scooped the prize in the Best Customer Service category.
Mike has been nominated after he and his team implemented a number of new customer service initiatives in his business, including taking photographs on all tours which are then uploaded to the social networking site Facebook and sourcing a dog-sitter for kayakers in the summer months.
Speaking about the awards, Mike said: "We are so passionate about what we do and for myself and the team, it's essential that the needs of our customers come first.
"We want everyone who comes to Mayberry Kayaking to have an unforgettable time and we have customers who return year-on-year, which is just fantastic.
"One of our most loyal customers is a guy called Bob Martin who travels all the way from the heights of Sunderland.
"Bob was paralysed from the waist down after a climbing accident 10 years ago and has since been awarded with a Level 2 coaching award enabling him to coach on sheltered water at his local kayaking club.
"After trying out one of our competitors in the Pembrokeshire area – which subsequently gave him a run around – Bob joined us for a six mile sea kayak tour and has never looked back.
"He was so impressed with our customer service, focusing on what he could do rather than what he couldn't, that four weeks after his first visit, he re-made the 400+ mile journey back to Mayberry Kayaking and plans to return with his entire kayaking club next summer."
The National Entrepreneur Awards will be presented by comedian and impressionist Alistair McGowan and are part of the two-day National Entrepreneur's Convention, hosted by Nigel Botterill's Entrepreneur's Circle, the UK's largest membership organisation dedicated to helping businesses grow.