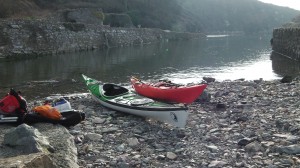 The Bishops and the Clerks are a group of Islands off the west coast off Ramsey Island in Pembrokeshire, Wales. Â I've been out here many times but it was to be Steve's first visit. Â It was a 6.9m tide at Milford Haven which meant that we would be dealing with tides of 6knots at maximum flow. Â Due to the tide times today it meant we would be leaving from Porthclais Harbour at 9am.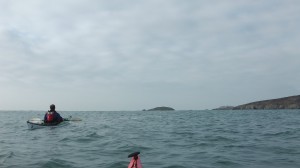 Heading out of the harbour and towards Carreg Fran.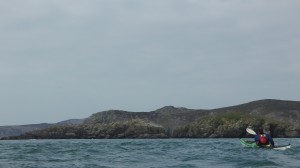 The sun was out and we were beginning to wonder if we'd chosen the wrong clothing option.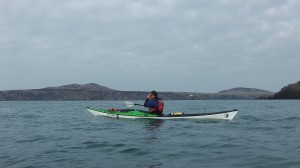 Steve had to put his sunglasses on before we entered the main tidal flow of Ramsey Sound and began the first of many ferry-glides of the trip.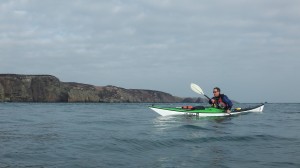 It wasn't long before we were across and looking at Ynys Berry.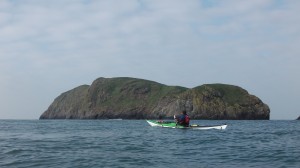 The view of South Bishop an hour away was luring us through the Midland Gap.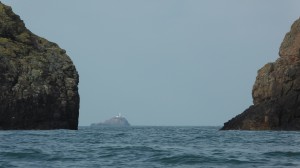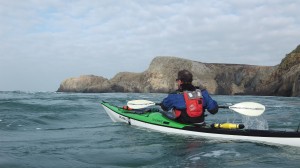 The tide was really running nicely through the Midland Gap and we passed through without incident.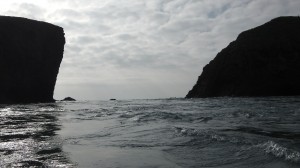 To meet the floating flotilla of Razorbills on the south side of Ramsey Island. Â They are currently back and forth at the moment in the lead up to nesting season.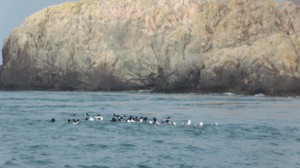 As we ferry-glided our sea kayaks across to south Bishop lighthouse we were joined by Fulmars who circled us a number of times and Gannets feeding in the races.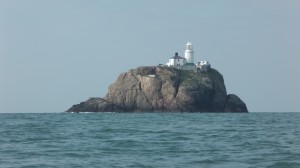 There was a little swell now we were 7km offshore, it made entering the eddy behind south Bishop interesting. Â We had a look at landing but it was a little too much for a composite sea kayak today.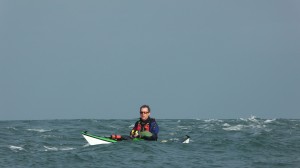 The tide was really running north past us quickly, ready to take us to our next destination.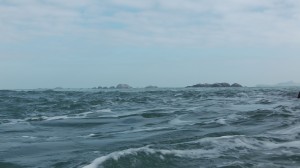 So we used the tide to take us north from south Bishop and up towards Carreg Rhosson.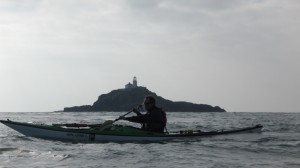 In the eddy at Carreg Rhosson I managed to drop my keys overboard whilst digging for chocolate. Â Doh!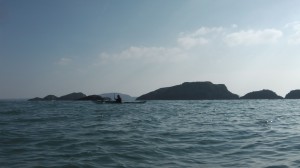 The tide had slowed down a lot as we left Carreg Rhosson and continued our sea kayak journey north to North Bishop rock. Â It was here that we saw our first seals of the day.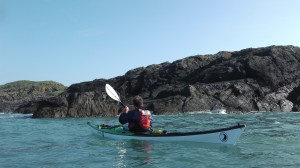 Another short rest and it was time to start another ferry-glide, back towards Ramsey Island.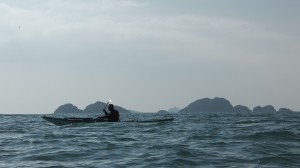 I love the view of St. David's Head from out here.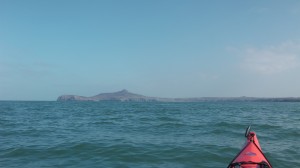 Once across we could sit and relax and let the tide take us a little way.
Before jumping off the escalator and into the eddy by Abermawr on the west side of Ramsey Island. Â There's no permitted landing here so it was lunch afloat in the sea kayaks.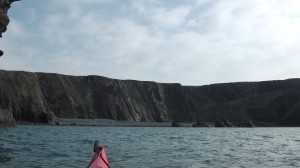 After a bite to eat it was back on the tidal stream again and our journey around the back of Ramsey Island. Â It's not often it's as calm as this around here.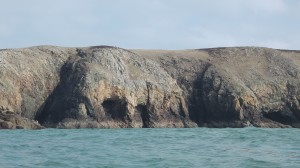 Now the title of this blog will make sense; the rocks on the backside of Ramsey Island that look like an elephant!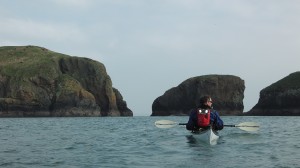 Steve takes a moment before heading into the flow coming through the Midland Gap.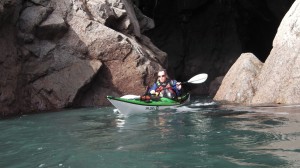 The Kittiwakes nest in this through cave but weren't around; it seemed rude not to take advantage and paddle through, so we did.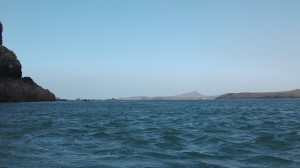 St. David's Head also looks nice from the south end of Ramsey Sound too.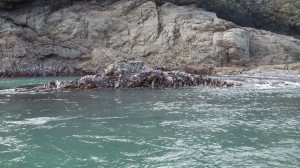 By now we were approaching low tide and the kelp was making an appearance to remind us that we were on spring tides.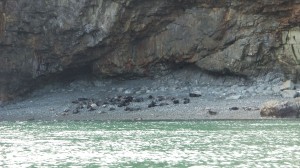 And there were a number of seals on the beach at Bachelors Bay, a few of whom came to play with us as we passed.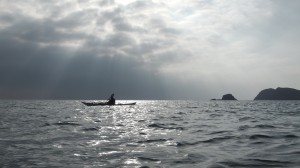 And then it was time to start the final ferry of the day, back across Ramsey Sound our sea kayaks took us.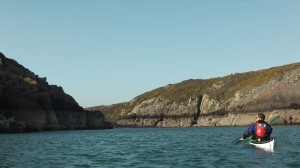 Porthclais Harbour hiding in the Pembrokeshire cliffs.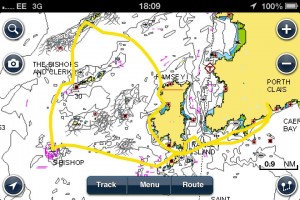 What a nice start to March that was. Â 17 nautical miles covered, negotiating some of the strongest tides in the UK over a period of 6 hours. Our average speed was recorded at 2.8 knots and our maximum was 7.3 knots.
The Bishops and the Clerks is one of the sea kayaking trips we aim to take you on during our Pembrokeshire Classics week.